Properties
Application
Standard Specification
Packing and Storage
CNPC POWDER'S 3D printing metal powder used argon and nitrogen atomization process. The powder with lower oxygen content(200-300ppm). The spherical shape with excellent fluidity. The particle distribution is very narrow. 3D print metal powder used in aerospace, molds, automotive, medical instruments etc. CNPC POWDER supply 3D printing metal powder include Stainless Steel Powder, Nickel Alloy Powder, High Temperature Alloy Powder, Mold Steel Powder, Cobalt Alloy Powder, Aluminum Alloy, Titianium Alloy. The metal powder for 3d printing we can according to customer requirements to develop powder



3D Printing Metal Powder Production Process
Step 1: High Quality Material
Step 2: Melting
Step 3: Atomized
Step 4: Filter
Step 5: Collect
Step 6: Dry
Step 7:Grading
Step 8: Inspection
Step 9:Packing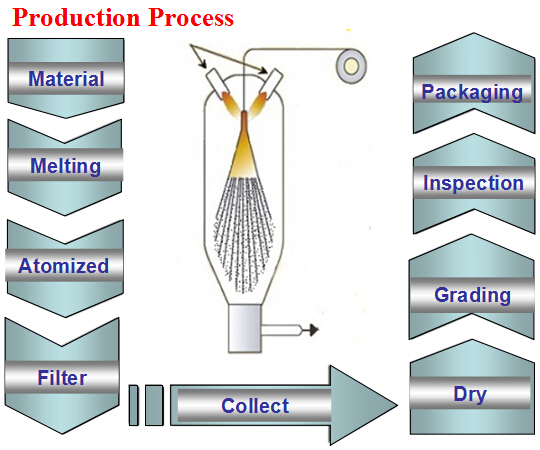 3D Printing Metal Powder is include Iron Alloy Powder, Aluminum Alloy Powder, Nickel Alloy Powder, Titanium Alloy Powder, Cobalt Alloy Powder.
CNPCPOWDER also could supply other metal powder in Additive Manufacture,
such as copper powder, bronze powder, tin powder, zinc powder, nickel powder,
tungsten powder, tungsten cobalt alloy powder, silver powder, etc.
The main application of 3D printing metal powder;
aerospace
molds
automotive
medical instruments
Military industry
Metal Powder
Composition (%)
O (%)
A.D.g/cm3
Particle Size
CNPC-Sn
Sn 99.95
0.05-0.08
3.5-5.0
0-15um, 15-45um,45-75um,
75-106um,106-150um
CNPC-Cu
Cu 99.5
CNPC-Ni
Ni 99.8
CNPC-WCCr
WC 92-94 Cr 6-8
CNPC-CuAlNiFe
Al 10 Ni 5 Fe 5
3.5-5.0
CNPC-Ag
Ag 99.9
3.5-5.0
According to customer requirements to develop powder
3D Printing Metal Powder Storage:
Easily oxide in high temperature.

Usually stored in tank or jar.

Carefully keep away from moist and damp. Store in dry and ventilating place.
3D Printing Metal Powder Package:
vaccum package per bag for 1kg, 2kg, and 5kg.
Put the bag into drum for delivery.